UC3-J (100 capsules)
Sold Out
Benefits:
Chamomile is used in herbal medicine to help relieve inflammatory conditions of the gastrointestinal tract.
Contains mucilaginous herbs.
How It Works:
UC3-J is a combination containing relaxing chamomile and soothing mucilaginous herbs to help relieve inflammatory conditions of sensitive mucous membranes in the gastrointestinal tract.
Ingredients:
Medicinal Ingredients:Althaea officinalis (marshmallow) root 114 mg; Matricaria chamomilla (chamomile) flower 74 mg; Plantago major (plantain) leaf 74 mg; Ulmus rubra (slippery elm) inner stem bark 74 mg. Non-medicinal ingredients:Gelatin, rose hip.
Recommended Use:
Dosage (Adults):Take four capsules, six times a day. Take a few hours before or after taking natural health products.
---
---
People Search These Products
UC-C (30 capsules)
$52.95 $57.95
---
 SAVE $14 + GET FREE SHIPPING: $43.46 BUY NOW! Benefits: A combination of Traditional Chinese Medicine ingredients. Deficient conditions in TCM. How It Works:Nature's Sunshine's Chinese herbal combinations are based on 5000 years of Chinese herbal tradition. Traditional Chinese Medicine (TCM), which includes the use of herbal medicine, continues to...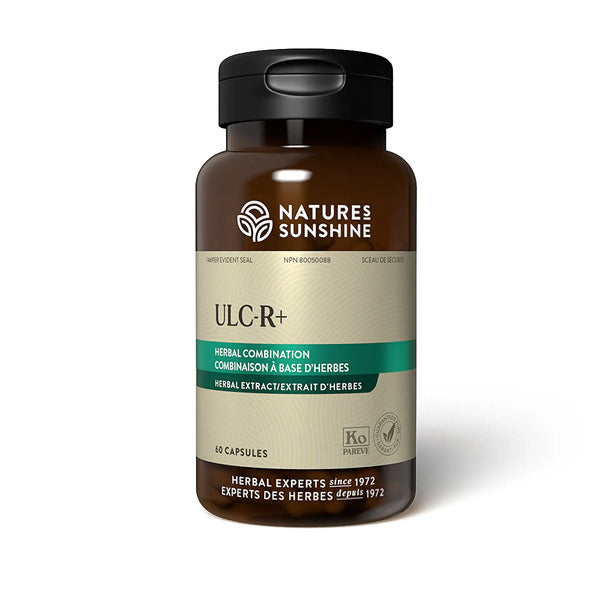 ULC-R+ (60 capsules) (Formerly HP Fighter)
$37.95 $41.95
---
SAVE $11 + GET FREE SHIPPING: $31.46  Buy Now! Benefits: Clove is traditionally used in Herbal Medicine as a carminative and stomachic, for the relief of digestive complaints, such as flatulence, nausea, and abdominal pain. How It Works: ULC-R+ contains five herbs that support healthy digestive function. Ingredients: Medicinal Ingredients:Each...
Ultra Trim (120 caps) (Formerly Ultra Therm CF)
Sold Out
---
Benefits: Used to complement a healthy lifestyle that incorporates a calorie-reduced diet and regular physical activity for individuals involved in a weight management program. Used in Herbal Medicine to help support cognitive function and to temporarily relieve symptoms of stress. Source of antioxidants for the maintenance of good health. How...